Backstreet Stories
---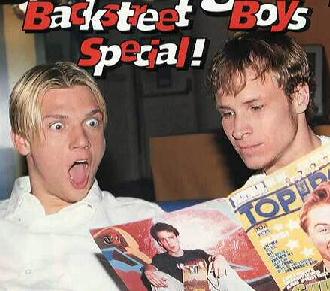 ---
= new stories
True Love
A story written by moi about Brians cousin Emma coming to live with him, Nick falling in love with her, and everything that comes along with it.



All I Have To Give





If I Dont Have You

Written by akanran1: faye and chan head to the promenade for a fun filled day of shopping. instead they "run into" a few surprises in the streets of santa monica. COMPLETED



No One Else Comes Close

Written by gshock99



If You Knew What I Knew

Written by akanran1



You Wrote the Book

nick finds an old diary/notebook he used to keep. he knows its the perfect gift for his soon to be fiancee.but not before he reads through it one more time...



I Knew I Loved You

Nick has the ability to predict the future...?




Return To Me

based on the movie of the same name. COMPLETED



Again

idea taken from the lenny kravitz song "again". nick meets asia at a meet and greet and cant seem to forget her. COMPLETED



I Need You Tonight

it's been 3 months since nick and emma broke up. neither one of them stopped loving the other but neither one has the guts to talk. the only thing that knows their feelings are the unsent letters theyve written to each other and it all may end up coming out when something unexpected happens. COMPLETED



Before We Say Goodbye

I cant really say too much about this one without giving it away. It may make you cry though. COMPLETED



Nobody But You

Emily broke nicks heart but then he meets emma, someone who actually likes him for him, but then emily comes back...



Thats What She Said

A series of short stories written about each boy as they visit a ski lodge on vacation to get away from bad memories and ex girlfriends.COMPLETED



Blackout

watch what happens during a game of truth or dare when the power goes out and two of the people in the room cant stand to be near one another. COMPLETED



Just to Be Close

faye, amanda, and emma are all working for mtv's all access week touring with the backstreet boys.



Snowed In

the girls had planned to go up to the mountains on vacation. what they hadnt planned on was getting trapped in a cabin with the boys.



I Wanna Be With You

i cant even explain what happens or else ill give it all away =Þ **there will be a sequel to this one** COMPLETED


---
It's Gotta Be You Main Page