Concert Review: Los Angeles
---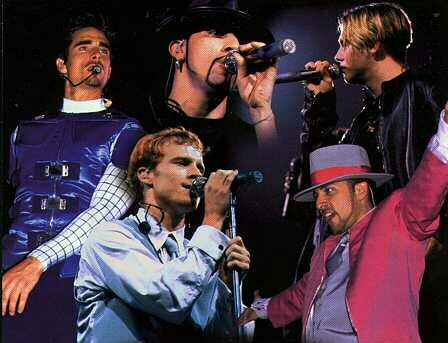 *NOTICE* DONT read this this if:
You expect me to say something negative about the female dancers
You expect to read "omg! the guys looked SO good!"
You expect to read "well...i was expecting more."
If you arent expecting to read any of those, NOW you can read my review :o).

Well lets see...what do you need to know....my show was Tuesday, October 19 at the Great Western Forum in Los Angeles, Ca(the first LA show). The tickets said the show started at 7:00 pm but I, and if anyone that knows me is reading this...they'll agree, had to make an entrance and be late. I wasnt so late that I missed the concert, just late enough to miss EYC. Sadly (and I mean that) Mandy Moore didnt perform at our show. We found our seats which were way in the back, about four rows down from the wall but if anyone has been to the Great Western Forum (the place the Lakers used to play), you would know its really not that big. Also, if youve been to the Into the Millennium concert you would know the further back you sit, the better you see. Anyways, on to the show....
Im not going to bore you with details about what the boys wore because im sure youve all read millions of reviews that mentioned that...btw...the pink suits look a lot better when you actually see them than they do in the magazines. But I digress (sorry, I like saying that) the show started at about 8:15 p.m. to the Star Wars theme. Then the boys appeared in a puff of smoke out of a black box on our right side.
One thing I would like to say. Ive read the same thing in basically every review and thats how the fans (at least the female fans) thought the dancers were dressed "slutty" during Show Me the Meaning. I personally LOVED the dresses as well as the dancers. If any of the fans who wrote those negative things had ever seen a professional dancing competetion, they would know that the girls have to wear short dresses to do the moves that they do in the Tango. Actually in competetion the dresses are ALOT shorter.
ANYWAYS...first off, let me tell you that I was in a mood about where are seats were. I thought we would be so far back we wouldnt get to see anything. I was SO wrong. We had such a good view. We could see everything. So the show started...my goodness, Kevin is a sexy man. He isnt my personal fav but when he was walking around that stage playing drill sargent...and AJ had me crackin up. He was at the end of the line just strolling behind everyone else, taking his own sweet time. So after they did their little marchy thing, they started the actual show show. And these boys know how to put on a show. I went to the show last year at Universal Ampitheatre and I thought that was good. That show doesnt even begin to compare to into the millennium.
Okay, let me just give you the highlights(at least for me). I love the new choreography for "Get Down". I think it was a really good idea that they changed the choreography for the old songs cause this way it held our attention better than it would have if we were watching the same routines they performed during the ppv(and how many times have you watched that? be honest....). Um...the choreography for "The One" was a bit cheesy for my liking but then again its got some cheesy music. After this was the speeches. Im glad that Nick is getting more comfortable with public speaking. I was a little shocked that he talked for so long but kind of proud that he did it and didnt sound at all nervous. And I swear, Brian said we were "the music of his heart" but I may have heard wrong. After the speeches they performed "As Long As You Love Me" which I'm kind of sick of hearing but hey, it gave me a chance to sit. After this they disappeared under the stage to change and Mindi kept us entertained with her sax. Once they came back out and got the crowd screaming again (who wouldnt scream seeing them in leather?) they performed "Dont Wanna Lose You Now" which I think had almost everyone in the audience crying. They didnt really give us time to recover before they went into "Quit Playing Games." My only problem with this was the fact they were so close to the audience doing all those flips and stuff. I was a little worried about AJ cause he just seemed to be the most carefree but thats AJ I guess.
Next was Kevin's duet on the piano with Mindi on the sax. I thought this was going to be a boring moment in the show but it was actually very nice. And it didnt sound like "I Believe I Can Fly" this time. After this was "Back To Your Heart." I think this may have been my least fav part of the show cause it seemed like they only catered to one side of the audience. Oh well, cant change the past. Next...if my memory serves me...was "The Perfect Fan." This had both moms and daughters crying. Those boys know how to work and audience. Anyways, after they did that ::clears her throat:: "Dont Want You Back." And I thought AJ was the bad boy....newflash...Brian is not the sweet choir boy I thought he was. All Im gonna say about this...nevermind...I still get speechless thinking about it....::drifts off for a second::...oh sorry...um...what next...quick costume change and back onto stage for "Everybody/Weve Got It Goin On/Thats the Way I Like It." How much did this part of the concert rock? In my opinion, this was the most fun part of the show. And excuse us while Nick grows up....After this another quick change(btw...with every change...out came AJ with a new cowboy hat) Oh! Forgot to mention....I had turned my back for a second to tell my friend something and when I had turned back around AJ had completely ripped off his wifebeater....just thought I would share. Back to the show...after the costume change(the pink suits) they did a couple of songs. "Spanish Eyes", "I'll Never Break Your Heart", "Show Me the Meaning", "All I Have To Give", and "No One Else Comes Close." I have one thing to say about this part (other than the thing that I mentioned about the dancers earlier), we got a surprise during "Ill Never Break Your Heart." As AJ went into his second verse of the song he started to sing in Spanish. I think this even shocked the guys cause they all kind of turned to look at him in surprise.
After they went back to change again, this time into more comfortable costumes, they came out and performed one of my favs "It's Gotta Be You." I LOVED the choreography to this one. Im a little worried about the fact that AJ has a straight jacket though...Half way through this they stopped to introduce the dancers and band. This was when Howie turned into M.C. D. I would love to tell you about this part but that would be fairly hard considering all I heard was "Right about now...." before he was drowned out by screams. Why do people insist on screaming over them? I couldnt hear "Heaven In Your Eyes" last year because the screaming was so loud. Please...if your gonna scream...save it until AFTER they sing....They finally finished the song and did their final song, "I Want It That Way."
In conclusion (:o) ) I would have to say this one concert that I would definately see again. Hopefully they can make their next tour as good as this one. Thank you and goodnight.

---
Into the Millennium Main